Welcome to the Sierra Nevada Foothills——
In the Ayurvedic Tradition, it is common to receive multiple treatments a day for multiple days to achieve profound healing, cleansing and rejuvenation .
Receiving one Ayurvedic Treatment for a day spa visit is wonderful - and the benefits go very deep with more concentrated and prolonged application.
Purifying, nourishing, deeply rejuvenating and clarifying, Ayurvedic treatments are unique. They offer a truly extraordinary depth of bliss and renewal that restores the mind/body/spirit complex by treating imbalance at the root.
We love hosting clients from out of town who know and love Ayurveda - and we welcome those who are new to it entirely.
Scroll down to find our list of recommendations for where to stay, where to dine and where to yoga.  
Here's 'a day in the life' of a Nevada City getaway for out-of-towners featuring Ayurvedic Treatments:
The Perfect Day
---
8:00 am: Breakfast at South Pine Cafe
9:30 am: Yoga Flow at The Yoga Dive
10:45 am: Stroll downtown Nevada City
12:00 pm: Lunch at Heartwood
2:00-5 pm: Ayurvedic Therapies at VitalLiving 
-Ayurvedic Massage (Abyhanga)
-The Blissful Mind (Shirodhara)
-Herbal Steam Sweat (Svedana)
5:00 pm: Home, shower and rest
7:00 pm: Dinner at New Moon Cafe (or chez vous)
---
---
---
---
Spending time in Nevada City receiving Ayurvedic Treatments in combination with the yoga, hiking, nourishing food served in many of our local establishments, small town charm, gold country history and natural beauty of the Sierra Nevadas and the Yuba river is a powerful way to take a break from it all, digest stored emotion and unprocessed experience - and rejuvenate. 
---
Call 530.264.8855 with questions, to book a consultation (we offer a free 1/2 hour discovery call), or to plan and schedule your ideal experience.
---
Read on to learn more about Nevada City and some of the activities and lodging we recommend below!
---
---
---
---
---
---
---
This is one of the most charming  places in the world! You'll find it all here: nature, culture, artisans, great food, wonderful people, fascinating history, community supported agriculture, farm to fork restaurants, hiking, world-class performance art and music, international events, film festivals, the Yuba river, boating, mountain biking, climbing, wine tasting, world famous cycling races, music festivals, international yoga ashrams... the list could go on and on.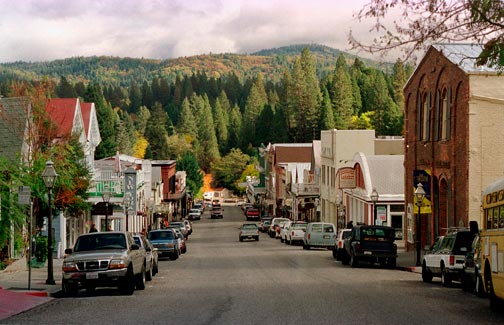 ---
If you're new to Nevada City or are simply interested in knowing a little more about the history, climate, culture and more...
---
We've compiled a list of favorite places and wholesome activities that we can recommend for your stay. Read on!
---
Nevada City is up to it's knees in wonderful places to stay - whether it's camping, a bed and breakfast, a hotel or an airbnb. Be sure to take it upon yourself to look around for just the right place... and here are a few of our favorites to get you started:
---
---
The Outside Inn: A small hotel that sits in a quiet residential neighborhood just two blocks from downtown Nevada City. Dog friendly, with a pool and offering some rooms with kitchenettes, this is a great place for hunkering down with many of the comforts of home.
Learn More...
---
The Gold Creek Inn: This boutique hotel is a historic property that stands aside the confluence of Deer Creek & Gold Creek a block away from downtown Nevada City. Booking is done through airbnb.com, though you can visit their rudimentary website here:
Learn More
Inn Town Campground: Less than 2 miles from Nevada City, this new campground is on a historic 15 acre site with 70 campsites, including glamping tents at only $90-$100/night and RV hookups. Comfy beds with warm linens, bedside tables and electrical outlets allow you to sleep under the stars in comfort. The communal building offers: foosball & ping pong tables, reading nooks, camp store, BBQ area, laundry, kitchen, TV, WiFi, showers and swimming pool.
Learn More...
---
Nevada City people LOVE their yoga! If you forget your yoga pants or gear... never fear. That swag grows on trees here! Refer to this list of our favorite studios so you can book your hour-or-so of mind/body reunion:
---
---
---
---
---
---
---
---
EATS
---
IKES QUARTER CAFE: This kid-friendly cafe serving Cajun-Creole breakfast & lunch is a funky/quaint space with an outdoor courtyard in downtown Nevada City. Catch it in the spring when the ginormous cherry tree is blooming in the courtyard and you're in Shangri-La. Sourced farm to table as much as possible, their menu reads like a novel with so many things to choose from and mmm, mmm, good. We recommend the Red Beans and Rice Plate with cornbread and gingered greens. Queues can get long at standard breakfast and lunch times. Seating is more limited in cold weather because the courtyard is closed. Get there early, put your name on the list and be prepared to wait. They don't take reservations. It's worth it. 
NOT a dinner spot.
Closed Tues. & Wed.
Breakfast & Lunch 8:00 am-2:30 p.m. 
---
---
---
THREE FORKS BAKERY & BREWING COMPANY: Ah, Three Forks. How divine this place is for quality coffee/tea/chai and dessert, a wood-fired oven pizza, locally brewed beer, kombucha on tap, turmeric/ginger/lemon/honey tea and so much more!
A gathering spot for locals that, upon opening in 2015, single-handedly transformed Nevada City culture  - this place is not to be missed.
Here's what they say about themselves: "Airy cafe with a farm-to-table focus serving wood-fired pizza, artisanal breads & house-brewed beer."
Woe betide the person who gets a hankering for Three Forks on a Tuesday and arrives there full of hope and good cheer only to fall into a pit of despair when confronted by a 'Closed' sign.
Mon, Wed, Thurs - 7am-10pm
Fri - 7am-11pm
Sat - 8am-11pm
Sun - 8am-10pm
Closed Tuesdays
No reservations, and no phone-in to go orders after 6pm. Kitchen closes 30 minutes before bar. Lunch menu available starting at 11:30 am (soup from 10am-close).
---
---
---
SOUTH PINE CAFE: The 'quick-view' Google listing for South Pine lacks a snappy one-line description. It brings to mind the cryptic saying by His High Holiness or somebody-or-other that goes like this;  "He who knows of the Tao does not speak of it. He who speaks of the Tao does not know it."
It's much the same with South Pine. To attempt to describe the sweet small-town harried vibe of South Pine or the deliciousness or their fare would rob you of the actual experience and expose our inability to do the place justice with mere words.
Go there. Order one of their three Eggs Benedict Breakfasts (chorizo, lobster or bacon), or get literally the best Huevos Rancheros you've ever had (ask for the home-fries extra crispy).
If you're in the mood for a Bloody Mary or a Mimosa - or even a cider - they have it. Freshly juiced apple or orange juice?  Yep. Housemade ketchup? They've got that, too.  And a fantastic lunch menu to boot. Lots of yummy vegetarian options are available, by the way.
You can pretty much bet on needing to put your name on a waiting list and twiddling your thumbs until your seat is available. Fortunately, Nevada City provides opportunity for some of the best people watching around. It's a win-win. Food AND a show? Mmmhmmm. Be sure to get there BEFORE you're super hungry so the plate lands at your table just prior to "Hangry." You're welcome. 🙂
NOT a dinner spot
Monday - Sunday 8 am - 3 pm
---
---
---
HEARTWOOD: A new addition to the Nevada City food scene (July-ish, 2017), Heartwood promises to nestle into the diadem of sovereign NC eateries like the gem it appears to be at the outset.
Billed as a Local, Seasonal Eatery it offers nourishing whole foods and down-home eats in an uber-casual NorCal aesthetic (the entire place was reworked by the hand of the new owner of the establishment). Basically... Heartwood: it's SO hot right now.
The menu is simple. Whole-grain buddha bowls made to order as you pick and choose from an array of toppings (quinoa or brown rice, hot smoked salmon, pickled red onions, shaved beet and garbanzo beans are a few examples). Toast/bread combination offerings, such as a thick slice of locally made organic levain or sourdough served up with butter, a soft boiled egg with salt and pepper or, better yet, avocado.
Tonic shots of turmeric, ginger, lemon and honey are a must-order. Espresso and Chai are also on the menu.
There's a tacit invitation to stay-a-while and read your book or catch up on emails in the vibe of the place. A nice view of Commercial street promises excellent opportunity for that age-old past time, people watching.
NOT a dinner spot.
Closed Mondays.
Open Tuesday - Sunday: 10 AM – 4 PM.
---
---
---
ELIXART: A unique and "totally Nevada City" treasure. Living here for over a decade might make a person forget that places such as Elixart are few and far between, and almost exclusively a rural Northern California wonder.
However, we were reminded of it's uniqueness just the other day. We were there sitting at the bar sipping on a Fritillary Lung while contemplating the menu, vascillating between the Manna Mushroom Burger or the Nori Nacho Strips, and witnessed some muggles walk in.
It was obvious that they'd entered another realm entirely and weren't sure if this strange place and the creatures within it were safe or not. But one cheerful 'hello' from Atma, the Culinary Alchemist responsible for most of the raw, vegan and 'high vibration' food served there, and they were lured in for the experience of a lifetime (not without some serious whispering and mutterings under their breath. Dear, dear muggles.)
The Saffron Chai latte made with Black Sesame Milk is especially yummy, as is the above-mentioned Fritillary Lung (particularly if you have a cold). Miso Soup with the onion flatbread and avocado dish is a delicious combination.  Finish it off with a raw cacao chip walnut cookie, and you're an Elixart convert.
Buy a crystal skull or a trans/multi-dimensional work of art on your way out or shop their specialty tinctures, potions or teas.  Any way you do it, you'll be glad you visited! 
Closed Mondays and Tuesdays (though, magically open Tuesday night from 10pm - midnight). They open at noon the rest of the week. We suspect that  Elixart staff spend their mornings polishing unicorn horns, harvesting dew and breathing in the miracle of life!
Wednesday: Noon-8pm
Thursday: Noon-8pm
Friday: Noon-12am
Saturday: Noon-9pm
Sunday: Noon-7pm
---
---
---
FUDENJUICE:  This informal street-side shack about 1 mile from downtown Nevada City is staffed by some of the most irreverent raw and/or organic food movers and shakers around. You feel special that they've actually taken your order. Somewhere in the air is the sense that they might not if you don't measure up. The staff is fueled in part by trance/techno music which escapes from out of the service windows through which they take your order and deliver food.  
They serve a multitude of organic, vegetarian, vegan and gluten-free options. Freshly juiced fruits and veggies, burritos, buddha bowls, freshly made kitcharee (you can order it with sunflower oil or ghee - or 'dry' - and topped with avocado, if that's your preference), falafel, salads, and more.
Bonus - you can get a good espresso here, with some locally baked dessert goodies.
They have only a very small indoor dining area -- and a very large outdoor patio in back. Our favorites; the Ginger Rogers (beet, lime, apple, ginger) and the Dairy-less date shake (Almond Milk, Dates, Bananas, Almonds).
Also -- the crunchy vegan salad with tempeh, walnuts and apples is delicioso! Don't miss their house-made green goddess dressing... if you love it as much as we do, you can ask them to serve up some for purchase to take home with you. Yes, it's that good.
Note: This is the PERFECT stop before or after a trip to the river for a smoothy on a summer's day!
Mon-Fri: 8am-7pm
Sat: 10am-7pm. Sun: 10am-5pm