FALL/WINTER SPA SPECIAL
Fall and Winter can be challenging to vitality and immunity. Many of us feel fatigued, ungrounded and overwhelmed. It's a great time to stop and give yourself some focused self-care designed to balance, deeply rejuvenate the mind and body and boost your reserves for the hustle and bustle of the season!
There's no better way to do that than with the age-old wisdom of Ayurveda!  Ayurveda recommends oiling yourself head to toe, inside and out to offset the dry, mobile, cold and sharp qualities of fall/winter (the Vata season).  SO – we've put together a lovely combination of treatments to do just that!
Visit us for a luxurious herbal/oil-rich Ayurvedic Massage.  We'll follow the massage by oiling your ear canals (Karna Purana) one at a time. Next, we'll administer the life changing, focus enhancing, dry sinus busting Sinus Treatment (Nasya). You'll leave incredibly relaxed and ready for fall.
Cost: $195
Value: $245 (Save $50)
Duration: About 2 hours
The Treatments…
AYURVEDIC MASSAGE (ABYHANGA)
Abyhanga (AH-bee-YAN-ga). Our signature massage features the use of luxurious organic oils infused with herbs & aromatherapeutic essences that deeply penetrate & nourish the skin & senses. The mind & body are lulled into total relaxation. Circulation & detoxification is stimulated for enhanced healing. Your nervous system is profoundly calmed & rejuvenated, leaving you in a state of renewal & peace. Don't miss the unique experience of receiving this ancient treatment! Never heard of Ayurvedic Massage?  Read this blog post to learn more. 
THE SOOTHING EAR (KARNA PURANA)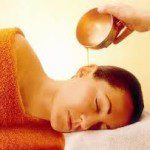 Ear Oiling is the Ayurvedic process of applying herbal oil to the ear canals. Your treatment begins with a scalp, face and neck massage. One by one, as you lay on your side, each ear is filled with warmed drops of herbalized oil and massaged to allow the oil to move deeply into the canal. A warm towel is placed over the ear while you rest for 10 minutes to allow the oil to properly absorb.
This therapy is highly recommended for those who use mobile phones continuously and for people exposed to high levels of noise and air pollution. It is also recommended in the fall/autumn time of year to offset imbalances resulting from the dry qualities of the season. The benefits of this treatment include:
Reduces itching, dryness, and ringing in the ear
Effective for loss of hearing and reducing frequent ear infections
Opens up the sinus region, reducing head colds and allergy symptoms
Acts against the ill effects of air and noise pollution
Reduces impact of wax, mucus and accumulated candid (yeast)
Enhances the sense of hearing
Soothes Vata imbalance in the ears
Helps with Tinnitus, ringing in the ears, Vertigo, an ear congestion
Softens face and jaw tension and TMJ
THE SINUS TREATMENT (NASYA)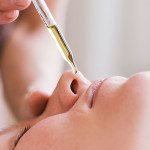 This treatment clears the sinuses and reverses the deep dryness that is the root of many respiratory, central nervous system and allergic conditions by cleansing, opening and suffusing the sinus tissues with medicinal oils. Nasya begins with a facial massage. Heat is then applied to the face and head to encourage dilation and opening of the sinuses. Medicated oil is administered into the nasal passages to cleanse and purify the sinuses. Nasya has an immediately beneficial affect on allergies, snoring, sinusitis, tinnitus, sleep apnea and headaches. It is a valuable aid for increasing mental focus.