VitalLiving Ayurveda was co-founded by Tona Leiseth and Valerie Goulding in 2013. VitalLiving Ayurveda is comprised of a tightly knit and dedicated team of quality Ayurvedic Practitioners.
We provide Ayurvedic Spa Treatments, Detoxification and Rejuvenation programs (called Panchakarma and Rasayana in the Ayurvedic Tradition) and Ayurvedic Health Consultations.
Our dedication to delivering the ancient and timeless principles of the life science of Ayurveda is the foundation that sustains VitalLiving Ayurveda.
Our expertise is appreciated by Business Professionals, Homemakers, Military, Technology Professionals, Athletes, Artists, Executives, Students, and those who want to heal, and discover, reinforce and maintain essential health.
---
In the Press…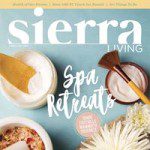 Sierra Living Magazine, by Thea Rood.
April/May 2017
Life is busy. Whether you're a CEO or a stay-at-home mom, you long for more hours in the day. You're sleeping fitfully and for too short a time—but keep yourself going with buckets of sugar and gallons of coffee. You're eating your preschooler's leftovers and calling it dinner—or worse yet, idling in a drive-thru line and feeding everyone badly. All it takes is a forgotten meeting, a toddler with an ear infection or the engine light coming on to make you feel that you too are about to blow a gasket.
So it's unlikely, given this scenario, your first thought is, "Hmmm, I better just pack up and leave town for a relaxing weekend." Except here's the thing: That might be exactly what you should do.
"In the West, when we're tired and depleted, we think we're being lazy and need to work harder," says Valerie Goulding, owner of VitalLiving Ayurveda Massage & Wellness Spa in Nevada City. "But in the East, there's a belief that there are times in each day, each season, each year, when we need to renew ourselves, seek out rejuvenation and rest."  Read More…
---
Reviews & Testimonials
---
---
Our Nevada City Location…
---
---
Bios…
I come from a great American family of gypsies.  We moved a couple of times a year throughout my childhood.  We ate tater tot casserole and drove a ford. My dad was a cowboy and my mom a ballerina.  There were 3 kids, all of us different…very different. But we were connected through laughter, tears and even some blood.  My family didn't have money, but we had the ultimate happiness – each other.

---

I was taught to live in the moment and always help those in need.  My siblings and I turned into adult version of our childhood selves.  One brother became a mechanic after years of getting in trouble for taking apart household items – like the TV, for instance.  The other brother works in Silicon valley… believe it or not that kid started wearing a suit when he was 5 years old.

---

Me? Well, I grew up trying to mend things.  Things like hurt feelings, relationships and scraped knees. I went to work with my aunt who worked at a children's hospital as often as I could to see the kids with cancer and gunshot wounds.  I wanted to help. Read More…

I discovered Ayurveda in 2003 as a new mother. At the time, I was married to a Navy Special Forces officer. I was suffering from post-partum depression and living in a new place, with no friends or family nearby to assist or provide relief from full time solo parenting. My then-husband was frequently gone and focused on training and deployments to the war zones of the Middle East. My health was failing due to stress, isolation and burn out. I had no energy – just when I needed it the most to nurture my infant daughter.

I didn't have a 'condition' – no disease could be diagnosed. Western medicine couldn't help me heal – it could only prescribe medications that masked symptoms and caused side effects that I didn't want.

Then one evening, over conversation at a dinner party, a Navy SEAL told me about  a book called Body, Mind and Sport by Dr. John Douillard – a Colorado based chiropractor, former professional athlete and Ayurvedic Practitioner. I bought it and read it in two days. It changed my life. Read More…
---